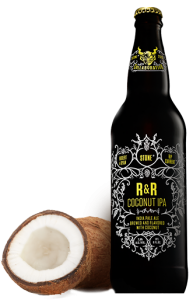 [schema type="review" url="http://34.233.121.37/2013/08/31/stone-rr-coconut-ipa/" name="Stone R&R Coconut IPA Beer Review" description="Craft beer review of Stone R&R Coconut IPA" rev_name="Stone R&R Coconut IPA" author="Steve" pubdate="2013-08-31″ user_review="7.0″ min_review="0″ max_review="10″ ]
Stone R&R Coconut IPA
Stone R&R Coconut IPA, a collaboration between the winners of the 2013 American Homebrewers Association contest Robert Masterson and Ryan Reschan, Rip Current Brewing, and Stone Brewing company, is a limited, late summer 22oz brew from Stone's collaboration series. Earlier collab-beers have been wonderfully mad blends such as Ken Schmidt/Iron Fist Mint Chocolate Stout, and Jason Fields and Kevin Sheppard's recipe brewed with Tröegs as Cherry Chocolate Stout. These previous iterations worked off of a winning theorem: chocolate in stout pairs nicely. For the latest Stone collaboration, the oddball ingredients are less orthodox. Coconut can be a delightful addition to dark beers, such as Maui Brewing Company's delicious (and underrated) CoConNut Porter. Can the milky tropical fruit do as well in an IPA where we more often get citrus fruits and pine?
THE BEER
Stone brews a number of hoppy beers including the Pale Ale, Ruination IPA, the Enjoy By Series, the 17th anniversary German inspired IPA, etc. With this beer they promise not only coconut but a new take on their use of hops.
Commercial description: …this innovative beer marks a refreshing sea change for IPA lovers everywhere. It was brewed with 280 pounds of coconut and an unusual blend of hop varieties, including a few from faraway lands or just brand spankin' new, and is guaranteed to taste like no IPA that's gone before…
Sounds exciting, let us give it a taste.
TASTING NOTES
Pouring out the bottle is an copper/orange beer with a bright white frothy head. Aromas of floral, even tropical hops and an oyster cracker malt note. The taste is an herbal-hop IPA with sweet malts and an astringent, biting, dry finish. Not finding the coconut at all. Body is light with big carbonation.
CONCLUSION
Certain flavors are imbued with greater potency than others. Ghost chilies bring hellish burning to the palate in only sparse amounts. Espresso coffee will make itself known in all kinds of recipes, from dry rubs to beer. But other tastes, even those familiar such as strawberry, can disappear as quickly as Pete's Wicked Ale, when brushing up against other, more powerful components. Sadly, coconut seems to be one of these subtler flavors.
Stone R&R Coconut IPA promises a coconut flavored ale with a complex blend of exotic hops. What the bottle delivered however, was far less dynamic. Coconut IPA is a decent India pale ale, certainly not the best Stone brews. The coconut element, while I'm certain the competition brew had it in spades, just did not scale up in production. Coconut fans, we sadly tasted none.
Craft brewers have been holding contests and using homebrewer's recipes to mix up their lineup. Stone has brought some great beers to market with this gimmick, this was just not one of them. Hopefully some of the Mint or Cherry Chocolate stouts will come back soon.
7.0/10