Brewed first in 2007 and again in 2013, 3 Fonteinen Hommage is a lambic loaded with raspberries and sour cherries.
Located in Beersel Belgium, just south of Brussels, 3 Fonteinen was founded way back in 1887 as a Geuzestekerij, a blender of old and new lambic to produce geuze. Currently run by Armond and Guido De Belder, the brewery has had financial struggles, at one point selling all the brewery equipment and blending the remaining lambics into a special four part series; Armand '4 Oude Geuze. These limited release blends helped secure financing for 3 Fonteinen to continue.
THE BEER
The beer we tasted 3 Fonteinen Hommage batch 2 brewed in late 2013. The commercial description: A blend of lambic beers brewed at 3 Fonteinen, with an addition of 30% whole fresh raspberries from the fabled Payottenland and 5% sour cherries. This unfiltered beer will enjoy a spontaneous refermentation in the bottle. No artificial colors or flavor enhancers are added. Lambic is brewed only from 60% barley malt, 40% unmalted wheat, hops and water. In commemoration of the late Gaston Debelder, founder of the 3 Fonteinen blendings
TASTING NOTES
From the uncorking, Hommage strikes a presence with its bold ruby color and a potent bouquet of raspberries and an earthy funk. The white bubbles atop dissipate soon after pouring. The flavor is boldly fruit forward with sweet/tart cherry and raspberry initially, followed strongly with the earthy funk that washes over the fruit, sour notes, and the oak aging showing on the finish. The masterful blend of lambics brings such a complex funkiness that makes Hommage a different creature than, say Lindemans Framboise. Carbonation is good and the body light, making this a quaffable masterpiece.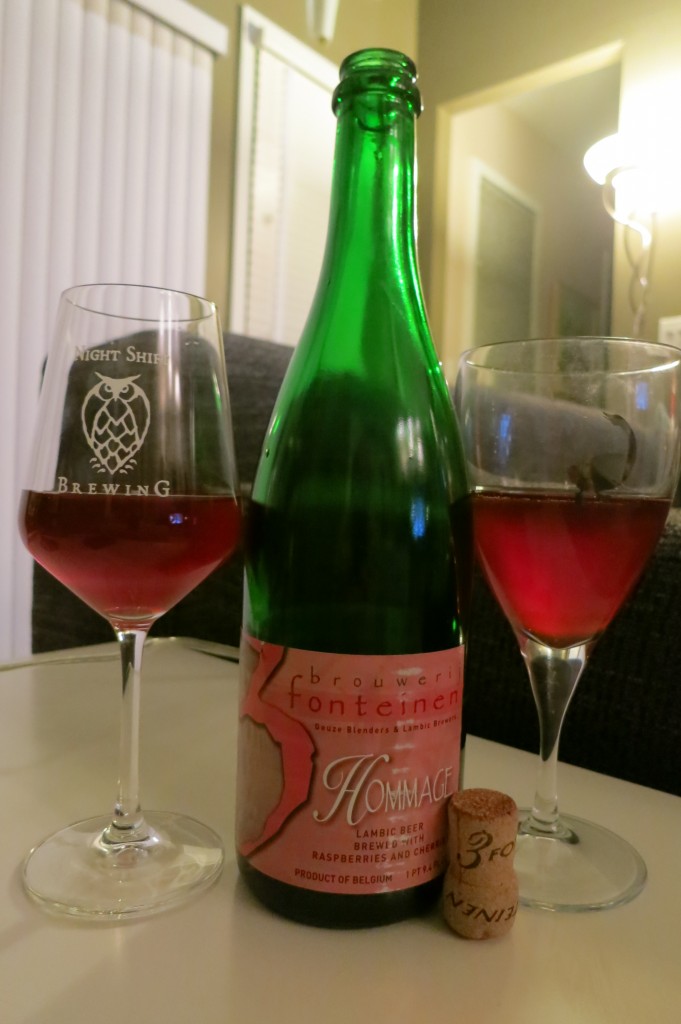 CONCLUSION
Sour beers with fruit can be one of the most satisfying styles to have survived Belgium beer styles near extinction. Currently, many brewers take on the challenge of making a complex sour base beer, sweetened with tart fruit. Sadly, the results are often weak, malty beers that have far too little character of flavor to be lambic, and too little fruit (it takes tons) to be fruit forward. 3 Fonteinen on the other hand, shows their mastery of blending, combining old and new lambics, with ineradicable local fruit, to make a world class beverage.  Having tasted the best regarded of American wild/lambics with fruit, 3 Fonteinen Hommage stands out above them all as perhaps the most sophisticated, engaging, and ultimately satisfying sour fruit beer to cross our paths. Do yourself a favor and try something by 3 Fonteinen, the beers are world class.
9.5/10
[schema type="review" url="http://34.233.121.37/2014/08/21/3-fonteinen-hommage" name="3 Fonteinen Hommage Beer Review" description="Craft beer review of 3 Fonteinen Hommage" rev_name="3 Fonteinen Hommage " author="Steve" pubdate="2014-08-20″ user_review="9.5″ min_review="0″ max_review="10″ ]