The 1st in "The Planets" series, Bells Mars is offered as a double IPA inspired by Gustov Holst's opus 32
THE BEER
Released in August on 2014 Bells Mars, like all double or imperial IPAs should be tasted as close to brew date as possible. With so many volatile hop oil aromatics packed in, you will lose some of the greatness of the Bringer of War by aging this one. With a recipe tested in small batches at the Bell's Eccentric Cafe under the name Larry's Latest DIPA, at hopped around a ratio of 3.4 lbs of hops per barrel, this is not just a retread of a current production beer.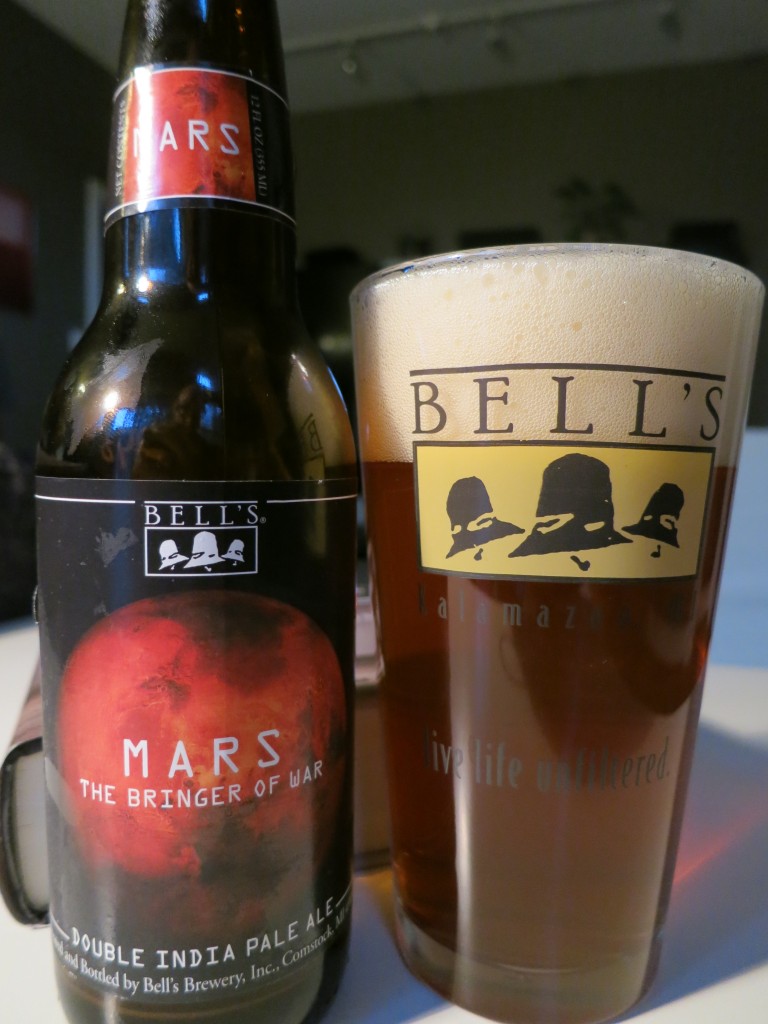 TASTING NOTES
The beer was tasted the same week it hit shelves in the Cleveland market, middle of August. Pouring the 10.1% ABV beast brings to glass a ruddy copper color with strong carbonation for the amount of alcohol within. The head is pale orange/tan with microbubbles rather that foamy. What a nose on this one! Bells Mars aromas are a mouthwatering mix of citrus, tropical fruit, resinous pine, caramel malts, and a hint of booze. Taste is similarly massive, awash in the citrus and tropical fruits up front, the pine and sweet malts follow, washed down by the hint of bitterness and alcohol, which is almost completely masked. Reminds me slightly of Bells This One Goes To 11, Finish is fairly dry. The potent carbonation stands up to all the elements and almost creamy body and makes for a refreshing ale despite all it brings
CONCLUSION
This beer will be polarizing to some. The kettle and dry hopping are massive, and clearly they are using more than Centennial hops to bring the god of war to your glass. That said, for those that are bold and enjoy the front lines of craft beer to the officer's tent, Bells Mars proves the guys in Kalamazoo are still making huge, different beers that any beer geek must get a hold of. Like the Hemingway inspired 2 Hearted Ale– now available in cans– Bells Mars uses a classical, cultural muse to bring a game changing, hop wielding brew. If you see one on the shelf, buy it and drink it immediately.
9.5/10
[schema type="review" url="http://34.233.121.37/2014/08/30/Bells-Mars" name="Bells Mars Beer Review" description="Craft beer review of Bells Mars" rev_name="Bells Mars" author="Steve" pubdate="2014-08-20″ user_review="9.5″ min_review="0″ max_review="10″ ]