Canned Pale Ales and IPAs, still fairly uncommon in most US markets, happen to be some of the tastiest pale ales on American shelves these days. Dale's Pale Ale rightly gets credit as the first boldly hopped beer to be canned in-house by Oscar Blues back in 2002. Since then many others such as Surly in 2006, and The Alchemist in 2011. Even the iconic Bell's Two Hearted IPA, bottled for years, is now available in a can.
THE BEER
American pale ale may be the most popular style in craft beer, with breweries like Hill Farmstead and 3 Floyds cracking out multiple variants each year. Lusted after brews such as Toppling Goliath PseudoSue and Russian River Hill 2/Row 56—perhaps may be the finest example of the style I have ever tasted—are also generally considered to be of the APA style. Half Acre Daisy Cutter as well fits the BJCP definition. It is, according to the brewer, a 'west coast Pale Ale chock-full of dank, aromatic hops'. Not certain what makes one pale ale 'west coast' and another not, but a 'dankness'; something that reminds some of onions or marijuana scents, seems to be the central theme. So Daisy Cutter should be slightly lighter in body and ABV than an IPA, but bringing big American hop flavors.
TASTING NOTES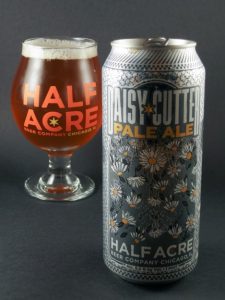 Half Acre Daisy Cutter pours a translucent ruddy color with a thick, foamy, white head. The nose draws you right in with whiffs of pine, citrus, Amsterdam coffee shops and almost overwhelmed malts. Though not as pine forward as Pliny or Surly Overrated (which are DIPAs), Daisy Cutter still has a large hop scent off the pour that will lure in IPA fans. This is no British pale ale. Taste seems understated at first. When you unconsciously prepare for the palette crushing American double IPA, the Half Acre flagship starts off modestly hoppy, with a subtle malt backbone. But after a few sips you realize that instead of fatiguing the palette, this pale ale reveals itself as a nice blend of tropical, citrus, and pine hop varieties, without the cloying malt sweetness that accompanies many double IPAs. The mouhtfeel is a bit prickly with high carbonation, finishing an extremely clean aftertaste.
CONCLUSION
The modern American pale ale can be one of two things: a brewer's modestly hopped pale ale, closer to its British cousin, appealing to the masses; or alternatively, a well hopped, yet still easy drinking ale that craft beer fans might flock to, but generally repulsing hop haters. Half Acre Daisy Cutter makes no compromise when it comes to bold flavors, choosing the less popular, more extreme path to a pale ale. Never lacking in taste, and yet never too much, this beer is a craft beer fan's idea of a great, highly drinkable pale ale. The fact that such an enjoyable and sessionable brew comes in cans, means Daisy Cutter can bring the hops to more places, with less hassle. Another great Chicago-area APA, seek out a few cans of these anytime you get the chance.
8.0/10
[schema type="review" url="http://34.233.121.37/2014/09/29/Half-Acre-Daisy-Cutter" name="Half Acre Daisy Cutter Beer Review" description="Craft beer review of Half Acre Daisy Cutter" rev_name="Half Acre Daisy Cutter" author="Steve" pubdate="2014-09-29″ user_review="8.0″ min_review="0″ max_review="10″ ]