Avery Fortuna: Barrel Aged Series #28
Tequila, distilled from the blue agave plant native to Mexico, heralds south of the border adventure and indulgence like no other spirit. Consumption is popularized as the rapid shooting of pours, rather than by snifter. And while bourbon or single malts are consumed straight by connoisseurs, tequila is so tied with shots that even less sophisticated tequila drinkers tend to pound shots, chased with a lime and salt. Despite the availability of opulent brands that age for years on wood, rounding out flavors like bourbon, the drink is not always associated with high end production. But some do recognize the potential for the better bottles. Writing in Paste, Nathan Borchelt points out that Quentin Tarantino gives visual adulation to Tres Generaciones Anejo, "which Bill drinks before that last East-meets-West sword fight".
This is a girding drink, one to firm up resolve before a fight. Tequila is a rough drink, best slammed down, or sipped straight up. But all this would ignore that other use for blue agave nectar, the margarita. And this apparently, was the inspiration for a new Avery sour in their limited Barrel Series.
THE BEER
The 28th release in Avery's much heralded 'Barrel Series' brings a new twist (puns!) to their limited release beers in the gold foil. Avery, known for their great wheat ale White Rascal as well as one of the best barrel programs in the country, regularly hosts very popular GABF week events featuring their limited release brews. For the twenty eighth small batch release, Avery attempted something highly creative, in utilizing tequila barrels and adding the lime and salt flavors of a margarita. Admittedly, had this not been an Avery beer, the expectations for such an experiment would be quite low. But with such a great reputation wrapped up on that shiny foil, we decided to give the somewhat expensive 12oz bottle a try. The barrels come from Suerte Tequila, also based in Colorado.
TASTING NOTES
Opening this bottle I thought; 'What does tequila smell like'? It is a distinctive agave aroma that is never quite as pungent as, say bourbon was my best recollection. Aristotle suggested that humans primarily recall smells that are pleasurable or painful, so those who have had a rough morning caused by tequila might get a better sense of the tequila barrels in play here. For me, the barrel note was a subtle oak with what could be tequila, certainly lime. The carbonation produced a fine head that faded soon after. The taste on Avery Fortuna was the real surprise. Not nearly as funky as many of their sours, a distinctive lacto sour note was present, along with a tart semi-sweet element that was very complex. I am guessing this was from the Suerte barrel. This was followed up with some lime and perhaps a hint of salt. Not as salinated as gose, the salt here was just enough to make you thirsty for another ponderous sip of this unique beer. The more I sampled, the more this margarita variant drew me in. The carbonation stays potent, and the dry finish with that hint of wood aging is simply a delicious combination.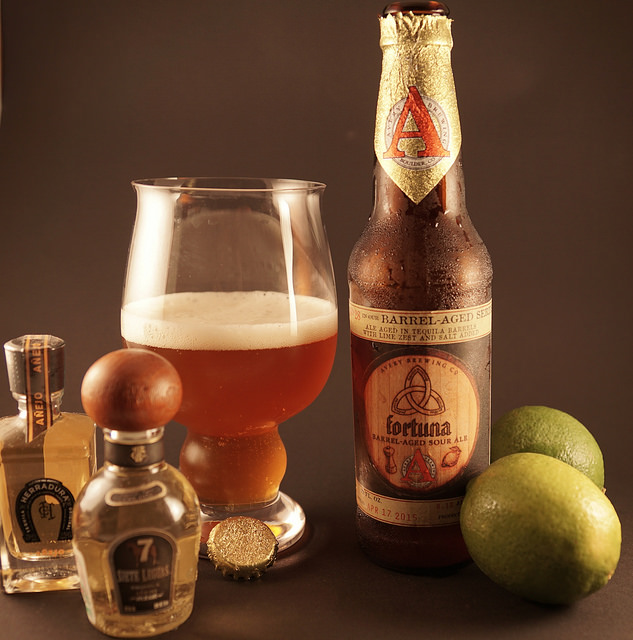 CONCLUSION
Brewers more and more and hard pressed to come up with new ideas for recipes that will make their beer stand out. Even less common is a completely new (as far as I know) idea for a beer that actually stands out beyond the novelty. Based around the idea for a summertime Mexican restaurant staple, Avery Fortuna is a refreshingly mild sour beer with subtle tequila and salt notes, that come together to form a tasty brew. It defies the odds and makes people what would make tequila their last choice at the bar appreciate the flavors it brings to a sour, citrus forward brew.  If you find one on the shelves or they bring a keg to your town, jump on the chance to try this crazy combination.
7.0/10