Cleveland Beer Week 2011 begins today!!!
What to do
Drink beer and get a designated driver. After that, it's complicated. With literally hundreds of tastings, dinners, homebrew contests, educational events and more going on over the next eight days, how do you pick what to do? You cheat. If you have an iPhone, get the Cleveland Beer Week app (sadly another year with no Android or BB support) to follow upcoming events easily. For planning your entire campaign with the proper premeditation, check out some fellow CLE beer geeks who have cherry picked some of what they see as the top events of Cleveland Beer Week 2011: Bobby of Bobby Likes Beer has one, covering his top picks, as does the Brad at Cleveland Food and Brews who gives more of a short summary of what seems like 100 events. Both are useful and none too geeky, their one flaw.
As for us, we recommend, and will certainly be all-in at at least one event: Brewzilla. This is a huge beer tasting held inside Cleveland's Galleria, one of those great urban malls that has fallen on emptier times. This is your chance as an adult to have free reign of the mall, roam about bringing food and drink wherever, all while being handed amazing beer at every storefront.
Beyond that, look for events at the better beer locations. Tremont Taphouse, Lizardville, The Winking Lizards, La Cave du Vin, The Beer Engine, and Ohio City's Bier Markt are just a few top tier spots to try. Use events as a chance to try somewhere new or get reacquainted with an old favorite (and take him to one of these bars). For restaurants, everyone hosting a beer dinner or happy hour event with say, paired appetizers is likely going to be a delicious excuse for gluttony.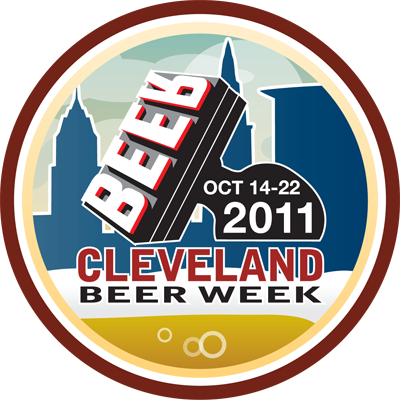 What Beer to Try
Anything new to you is a great start. Beers available go from the puckery numminess of Sour Power Day featuring sour beers at Lilly's Handmade Chocolates in Tremont, to the dark chocolate, vanilla, whiskey bomb that is Cleveland's own Great lakes Brewing Company Barrel Aged Blackout Stout (named for the great Northeast power outage of 2003, not the state too many of these will put you in).
Try something new. The Belgian styled beers Goose Island will bring (Madame Rose, Matilda, Sofie, Pepe Nero, Fleur, Pere Jacques) are as alluring to beer and wine lovers as Vegas bottle service is to Tiger Woods. If you are under-educated on Ohio beers there is no better for trying Great Lakes, Willoughby Brewing, HoppinFrog, Rat Cellars, Brew Kettle, Fat Head's, Flying Dog, Jackie O's, and so many more.
Out of town juggernauts include Stone, The Bruery, Dogfish Head, Founders, Jolly Pumpkin,  Bells, Victory, Dark Horse, Green Flash, Lagunitas, 3 Floyd's, Alesmith, Mikkeller, and scores more. You wont go wrong seeking out events with these leaders in craft beer.
What we will be at
With eight crazy nights, to quoth Adam Sandler, we will be doing our best to attend all sorts of events. Beyond the previously mentioned Brewzilla, one or more of us will likely be at events at Rozi's, Edisons's, the downtown Winking Lizard, La Cave du Vin and Lolita.
Hit us up on Facebook and let us know where you will be during Cleveland Beer Week 2011. We are happy to take questions on what event on any given night would be tops in conviviality.
Cheers!