Took a short trip to Portland and Eugene. Just long enough to sample some great west coast brews.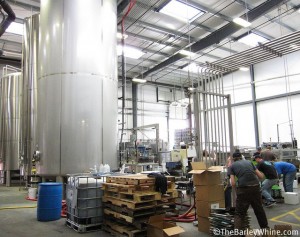 Finding Beer in Oregon
If you are young and you drink a great deal it will spoil your health, slow your mind, make you fat – in other words, turn you into an adult.
P. J. O'Rourke 
With over 100 brewery companies operating in Oregon, according to the Oregon Brewers Guild, you can hardly stroll from the airport gate to baggage claim without running into a brewery. The state is the second largest craft beer producer, second largest hop producer, and third largest consumer of craft beer in the United States. All this makes it the perfect place for a beer geek to spend a few days.
Portland
With 43 within city limits, Portland has more breweries operating than any city in the world. Some of the bigger names include Widmer Brothers, Deschutes, Full Sail, and Hair of the Dog. Rogue also has a Distillery and "Public House" and, has in recent years taken over the charming and famous beer bar the Green Dragon. With only a few hours on the itinerary for the city, I made my first stop for lunch and a few beers at the Horse Brass Pub, my favorite place in Oregon to get a pint.
Purchased by Don Younger in 1976, this shrine to British pub culture serves Scotch eggs, bangers, fish and chips, and some of the best on-tap craft beer anywhere. Horse Brass feels like an authentic English pub with soccer signage, knick-knacks, shabby chic lighting, and no shame in its patina. Having no time for warm ups, for my first beer of the trip I started off with Russian River's Pliny the Elder. This was my first taste of Pliny on draft and it was even better than the bottle I had sampled. Great balance with huge pine and grapefruit hops and a nice dry finish. Second beer went in a different direction: Firestone Walker's Velvet Merlin. A tasty oatmeal stout, this beer has great body, a hint of sweetness in the dark malts, and good carbonation. FW knows what they are doing here. Also sampled Walking Man's very good Black Cherry Stout. Lunch was scrumptious, with tasty pub grub and attentive service. If you are in Portland for even a short time, make a point of stopping in Horse Brass for one.
After lunch we went around the corner to Belmont Station, a beer store suggested by Brad of Cleveland Hops. A fine beer writer, Brad has a great piece on his longer trip to Portland. Belmont is a great store with hundreds of Oregonian and west coast bottles. I picked up a 22oz. of Firestone Walker's 15th anniversary and some Russian River selections.
Employees at the store, looking more like the cast of The Golden Girls than Portlandia, were helpful and knew about good beer without snobbery. In addition to the bottle selection, Belmont had a number of kegs ready to fill your growler with a myriad of top shelf craft beers. Having no growler or any way to get it home, I had to pass. Lacking time for a brewery visit, our final stop in the city for beer in Oregon was at another bar.
Henry's Tavern in the Pearl District is a minimalist/modern designed three story bar in a repurposed brewery with restaurant on one side, bar on the other. Slick, almost sterile, this place could be located in any large city in the Western world. Trendy cocktails and top shelf liquor offer some color to the dark walls and dim lighting. The service is proficient, but cold compared to the usual Portland geniality. But the draw for us of course, is the tap list. With over 30 beers on tap, including multiple nitro handles, this Oregoncentric bar covers a large swath of styles. Deschutes Black Butte was my first beer at Henry's and it did not disappoint. Chocolate and coffee roasted notes, medium mouthfeel and just enough hops to give it a structure. A great porter from one of Oregon's finest brewers. Continuing the Russian River subplot, beer number two was RR's Damnation. A pallid orange liquid, served in a large snifter, it smells of Belgian yeast esters and spice. Taste is spicy with apple, sour, and quite a bit of sweetness. Good carbonation in this thin body and boldly hopped for the style, this Belgian strong ale finishes dryly.
The remainder of our time in Portland was spent drinking coffee, eating at Clyde Common (serving barrel aged cocktails), and grabbing a maple bacon bar from VooDoo Doughnuts. Great times in a great city. On to Eugene.
Eugene
Eugene, Oregon's second largest city, is perhaps most famously home to the University of Oregon. Track Town USA has a lot of loyal Ducks wearing Nikes on the street, to dinner, at funerals, even at their own wedding. But it's not all sports, with a number of breweries and quality bars, there are plenty of choices here to tempt a craft beer fan. Having less than twenty four hours in Eugene counting sleep and meals, time was precious. As such, I narrowed my focus to a newer brewery that has been making positive waves: Ninkasi.
Founded less than 6 years ago, Ninkasi is now proudly producing their flagship Total Domination IPA and other well hopped beers from a 50 barrel brewery in the Whiteaker neighborhood. Like Jeremy Lin coming out of nowhere, Ninkasi became the fastest growing craft brewer in 2011, surpassing even New Belgium's blistering growth records. The tasting room is small, but cozy and attractive. The staff were extremely friendly and helpful. The free tour was given by an employee who knew the facility front to back, having started as a keg washer. To explore their beers I ordered a sampler. The 5oz (!) samples each come with a card displaying the beer's label on one side, and effusive tasting notes on the other. ABV, original gravity, the varieties of hops and malts, even food pairings are all included as reading material while you imbibe.
Starting with the Sterling Pils, a crisp, hoppy, delicious example of the style, the beers I had were well made and inviting. From the malty but dry Sleigh'r Dark Doüble Alt, to the hoppy flagship Total Domination IPA, or the very well made Oatis oatmeal stout, Ninkasi brings solid brewing chops to each variety. While few of these beers will be jamming up the beer geek interwebs with limited release adjunct vessels, Eugene has a funky, exciting location brewing great craft beer. It is a must visit for any beer lover staying in the area.
Although I spent nearly all my time at Ninkasi, a short visit was paid to Hop Valley Brewing Company, a brewery/restaurant near the hotel. Hop Valley brews a number of beers on sight including Alphadelic IPA, a piney but simple brew and Golden Road, a "Belgian" pale ale on cask that missed a few style marks. Every state has cookie-cutter sports bars, Oregon is great because here they have fresh beer. Not a bad place for a meal and a real ale.
Not Enough Time
Surrounded by beautiful scenery, friendly people, great food and scores of breweries, exploring all the beer in Oregon would be a challenge in 440 hours. Having sampled greats on previous trips like Deschutes, Full Sail, Rogue, and amazing bars like McMenamins Kennedy School, the breweries and bars of our trip were as good as anything I have visited. Every time my eyes catch Mount Hood, and lips taste a real pint of a west coast ale, the truism that Oregon is a haven for craft beer comes flowing back.  There may be no better beer-cation spot on the planet.