THE BEER
As we have recently discussed, autumn is the time for hop harvests and therefore the rare window for fresh/wet hopped beer. GABF occurs in the same season. One brewery that stood out in 2014 judging for hoppy brews was central Ohio's Columbus Brewing Company. Head brewer Tony Corder and his team took home a bronze medal in the American Pale Ale category, they also scored a gold for their Imperial Pale Ale Creeper. Port Brewing's Silver 15 and Pliny the Elder came in second and third to CBC. So with these bona fides, we jumped on the chance to fill a little growler with their take on a fresh hop beer. Brewed primarily with fresh Mosaic hops from the Yakima Valley in Washington State, the specific hop breakdown was kindly shared by Tony Corder himself:

One of the great things about craft beer is the accessibility of people making the product, and the guys at Columbus Brewing are no exception; great people. Beyond the above info, we knew it was a fresh hopped ale and were amped to try it.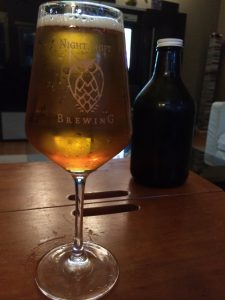 TASTING NOTES
CBC Yakima Fresh Hop pours out a translucent copper color with a pungent aroma of shallots, malted grains and fresh cut grass. A thin white layer of bubbles tops the brew. The palate gets hit with even more than the nose: scrumptious tropical fruits right up front from the Mosaic hops and a subtle citrus note, perhaps from the centennial addition. These hop flavors are extremely fresh, like drinking straight hop flowers, but better. Sweetness then shows itself, though without heavy grain flavors. Following the malts there is a potent bitter element, tastefully balancing out the pale malt. Our Yakima Fresh Hop sat two days in the growler and still had excellent carbonation, giving a refreshing mouthfeel. The drink-ability is high on this one. This is a delicious beer.
CONCLUSION
Idealism is fine, but as it approaches reality, the costs become prohibitive. –William F. Buckley, Jr.
When I think about all the improvements commercial craft brewing has made in America in the past 10 years, I can see how WFB's quotation aptly describes the evolution of change. Early improvements, such as increasing sterile brewing conditions, using proper yeasts, and educating customers on new products were relatively cheap. In an effort to keep innovating, brewers increased malts and hops making bigger and bigger beers, began barrel aging on whiskey and other things, and even took on the dangerous bugs required for sour beer. These advancements take brewery employees with greater skills, and more money for new equipment and ingredients. Fresh hops too, have a cost. Visiting farms to pick out the product you want, and then brewing with hops in fresh leaf form, that containing more alpha acids and oil than in the pellets, and clog up equipment, is a unique challenge.
It is for this reason that we are SO thankful that brewers like Columbus Brewing Company, Sierra Nevada, Deschutes, Fat Heads, and more continue to push the limits, and take the effort to brew amazing fresh hop beers. Yakima Fresh Hop was the best wet hopped beer we tasted this year. Seek it out the second you see it in 2015.
9.0/10
[schema type="review" url="http://34.233.121.37/2014/11/22/Columbus-Brewing-Company-Yakima-Fresh-Hop" name="Columbus Brewing Company Yakima Fresh Hop Beer Review" description="Craft beer review of Columbus Brewing Company Yakima Fresh Hop" rev_name="Columbus Brewing Company Yakima Fresh Hop " author="Steve" pubdate="2014-11-30″ user_review="9.0″ min_review="0″ max_review="10″ ]