There is a condition worse than blindness, and that is, seeing something that isn't there. –Thomas Hardy
THE BEER
The origins of The Barley Whine goes back to a prior craft beer boom. The 1990's Sam Adams/Pete's Wicked dominated microbrew explosion brought thousands of new beers to market, of varying quality. Being young and poor, we decided to see if any of the hype was worth our few dollars. Thus, we conceived the Tri-City Beer Club, a fraternal organization, founded on the principals of blind-tasting craft beer for the purpose of judging which brands were worth getting tippled on.
To this day we still prefer the blind taste test to any other method when comparing similar styles. Craft beer of the moment is an even more hyped up entity, with people selling bottles for extraordinary sums on the secondary market. While scarcity explains some of this inflation, there is no doubt a strong presumption that some beers are vastly superior to others, and worth great effort and expense to acquire. So when we heard that one of our local favorites, an IPA from the exceptional Brew Kettle, had won a blind taste test of top American IPAs in a field of over 100 participants, we could not of been more thrilled. Although we did mention White Rajah ("amazing") in our recent review of its Cascadian Dark Ale cousin Black Rajah, it is far past time we gave this beer an entry all its own.
TASTING NOTES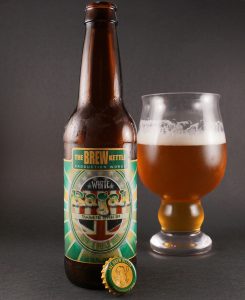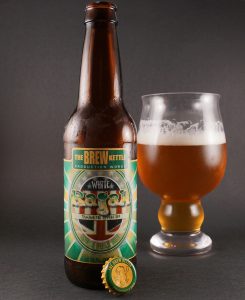 Sharply resinous, fresh White Rajah wafts up aromas of grapefruit, mango, citrus and a fresh plant smell one may only experience after a satisfying lap flaying flora with the WeedWacker™. Click on the image of the beer, you will see it comes out copper colored with white foamy head that fades, leaving strong lacing. The taste is awash in passion fruit and oranges, with some sweetness though no distinctive malted grain to speak of. Carbonation is strong, which is critical as the mouthfeel is thicker than most IPAs. White Rajah finishes semi-sweet then hits a bitter note, continuing the citrus flavors throughout. Not quite as a dry a finish as say Heady Topper, Brew Kettle's IPA does draw you back for more by not being cloying.
American IPAs vary from their British counterparts by being a vessel for fragrant, fresh hop flavors. Rather than employ hops bitter side as a balance to malts, as the original British styles do, American IPAs are dry hopped as well, producing brighter, often floral, flavors. One downside to the fragrant hops are their precipitous decline in short order. These are beers of the moment, that change radically after a few weeks. This leads us to our biggest criticism of White Rajah, and TBK bottling on the whole; they do not date their product.
Beer is a perishable product, not unlike milk or juice. To not place a date of bottling on beers, craft brewers to a disservice to their customers, and to themselves. A craft beer fan picking up a 4 month old IPA that has no date, might simply deduce that the brewery makes bad beer. Even a 'best before' date would be a welcome start for the Brew Kettle to give consumers no notion how long a beer has been sitting on shelves. Look at the success Stone has achieved with their Enjoy By IPA.
CONCLUSION
"Taming The Savage Hop" is the tag link of The Brew Kettle's White Rajah, and while Kipling allusions are likely lost on most hop-heads, it certainly describes their approach to this west coast styled IPA. But a hop is only savage when fresh, so until the Brew Kettle can address dating the bottle, you won't know if you are getting a world class IPA, or a faded shell of former imperial greatness. So a half point taken off for poor packaging. Beyond that however if you can get White Rajah fresh, it will be one of the best IPAs you are likely to taste. And for that, we thank Brew (Kettle).
  9.0/10