Is a new recipe a new beer?
Stone recently made all sorts of Stone Marketing about how they were changing the recipe for Ruination, their DIPA. They state that new hops  and hopping techniques are available, that were nonexistent ten years ago. They argue that to not change is impossible writing,"It takes a prohibitively massive ego, a stymied lack of vision, laziness, ignorance and/or delusion for one to create something and expect it to remain an exemplar until the end of time". But does the software inspired name 'Ruination 2.0' really sound like brand that sells Arrogant Bastard and puts gargoyles on everything? As Lindsay on LoveBeerLoveFood.com points out, the original Ruination had a score of 100 on Beer Advocate, and still could not survive. But don't brewers change recipes all the time? And what does it say about other era defining brews. I know a local bartender with a Sierra Nevada Pale Ale tattoo. A permanent icon to the label that opened her eyes to good beer. What if Sierra Nevada decided to rename the pale ale that made then? How quickly does an icon become a has-been?
THE BEER
Night Shift Morph 4/23/15 is a one off, an experiment whereby the taste testers do not get paid, but instead pay the company for the privilege. Morph is a chance to sample "delicious … always magical, always morphing India Pale Ales" that may be great, may be sub par, and may never be brewed again. A fun concept, unless you fall in love with a recipe. But is it a new beer each time they tweak the ingredient list? If so, why not give them each a new name? I'm guessing the ephemeral nature of Morph is the reason these different beers share a name.
TASTING NOTES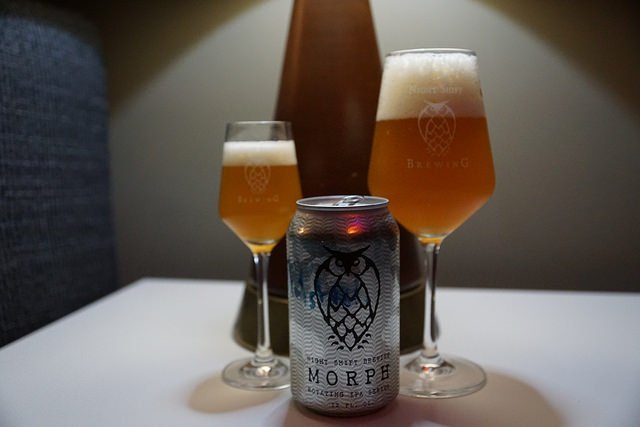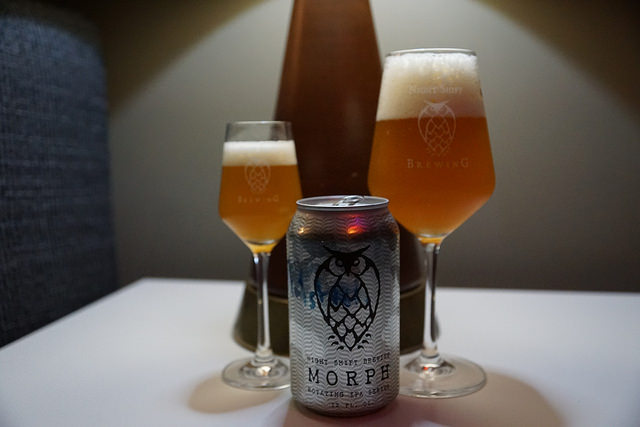 Night Shift Morph brewed on April 23rd of 2015 holds an aggressive white head over a pale copper body.
Steve: The nose announces a big IPA, with tropical and pine notes along with some distinctive malt. Taste is mostly grapefruit with a Ritz cracker note coming in from the grain bill that seems unique to this beer. Lots of bitterness as well with a dry finish.
Dave:  Drinks clean. A nice, tasty IPA with some citrus and tropical fruit in there. Not very sweet. Good carbonation, finishing dry.
CONCLUSION
Night Shift Morph 4/23/15 is a hugely flavorful IPA with Citra and Amarillo hops combining for a pleasant dry hopping taste. I thought it was on the upper end of sweet for an IPA, but Dave thought it was right in step with the style. We both agreed that Morph 4/23/15 was a very nice IPA from Night Shift. Hopefully these experiments will continue to be as successful, and eventually result in a great new IPA with a name all its own.
8.0/10