And think of the summers of the past
Adjust the base and let the Alpine blast
Pop in my CD and let me run a rhyme and put your car
On cruise and lay back 'cause this is summertime
-Will Smith
THE BEER
A Berliner Weisse, according to the German Beer Institute, constitutes a"sour, tart, fruity, highly effervescent, spritzy, and refreshing ale that holds only a fraction of a percent market share in Germany as a whole but is stll[sic] fairly popular in and around Berlin, especially on hot summer days". In the States, people love to ask 'what's your lawn mower beer', an indication generally of something lighter in body, with an emphasis on refreshing, clean notes—preferably in a can. But who wants another weak ass 'sessionable' IPA when you can have a beautifully flavored, yet equally refreshing gem like Berliner Weisse? And what if a small batch brewery foeder ferments one at 2.3% ABV with dry hopping, and ages it on oak barrels? The potential for the perfect summer beer. And that might be the best description we can give to de Garde Hop Bu. That, and one of the biggest misnomer beer names we have come across in some time.
TASTING NOTES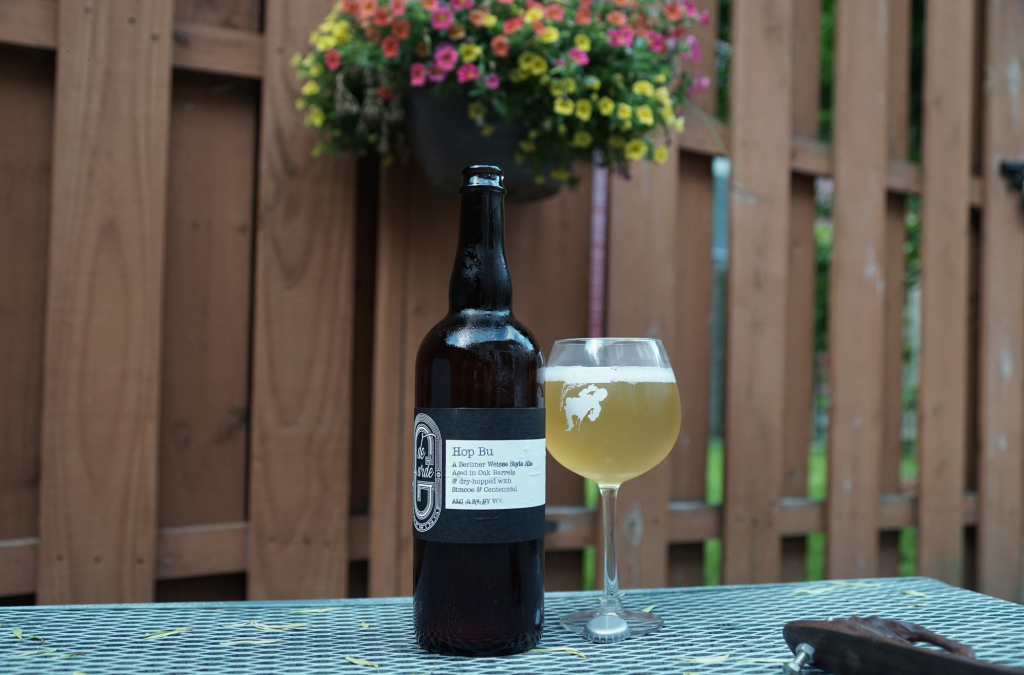 So yes, this beer is dry hopped with Simcoe and Centennial hops, which might lead one to thinking Hop Bu is going to be an IPA. that was our thought anyways. Neither Dave or I could recall tasting an oak aged Berliner before, so we were unsure what to expect. A look at the pleasantly simply label however, showed us what we were truly in store for.
Pouring out with bubbly, thin carbonation that dissipates within a few minutes, de Garde's Hop Bu shows itself as a cloudy, pale yellow ale. A traditional Berliner has a subtle tart noes, and this was on point, with an additional element of aged Italian cheese that hinted at something more complex in the glass. The flavors start out slightly sweet pineapple changing to a tart lime or lilikoi. The finish is mildly sour, mostly clean, with hints of oak throughout, giving an overarching depth that merges the sweet and sour to create an amazingly complex beverage.
CONCLUSION
The Germans take beer as both a central part of their culture, and yet much less seriously than most Americans drinking Berliner Weisse. They add fruit syrups to the beer and enjoy it as a simple pleasure. Jackie O's offered this option at one of their recent releases which included their tasty Berliner. And if Hop Bu simply hit that level of quality summer beer, it would a welcome addition to the beer scene, bereft of American sours. But de Garde has created something beyond a clean beer with character. Hop Bu, with all its barrel aged funkiness is the most delicious Berliner Dave or I have ever tasted, and perhaps the most surprising and delicious beer we've tried this year. This beer, never heavy, and never boring, brings a Belgian level of depth of flavor to the palette. We will certainly be seeing out more de Garde beers in the future if they can produce this level quality.
9.5/10