Out with the old, in with the new. With Three Floyds YumYum replacing a staple in their lineup, we first should try to understand the shakeup. Sometimes change is for the better, like when The Facts of Life added Jo in season 2. Without her butch pugnacity, the show likely would of been dropped for having all the narrative tension of the Puppy Bowl. So to does the craft beer world often need fresh blood to keep beer lovers penchant for the novel liquid satisfied.
With the constant growth and innovation of the American craft beer market, what was novel 6 years ago, may now be passe. You would be hard pressed to find many microbreweries producing a brown ale, where just a few years back it was a staple of the US beer scene. With no great tradition like European and UK drinkers have to ground and delimit brew masters creations, the US craft beer market is in an age of innovation. Customers want more punch, like Nancy McKeon brought to Mrs. Garrett's house.
2014 has seen its share of change, even from established brewing powerhouses. Sierra Nevada released five large format bottles featuring whole cone hops including Harvest Wild Hop and two antipodal wet hop Harvest beers. Hop forward brewer Green Flash chose to modify their recipe for West Coast IPA, to include more hops. Even the most popular craft brewers such as Three Floyds find room for improvement. Pride and Joy, their 'American Mild' at 5% ABV has seen this year as its last. The English inspired ale was nearly as bland as it sounded, when contrasted by their many, many, other heavy hopped offerings. in P&J's place comes Three Floyds Yumyum. Will this new brew be a fun new contribution to the FFF lineup the way Jo was to 80's sitcoms, or a miscasting à la Ryan Renyolds casting as The Green Lantern.
THE BEER
Three Floyds calls this an 'American Session IPA' despite being 5.5% ABV. Not sure it needs that confusing labeling, as most people consider session beers to be under 4.5% or thereabouts, as we have discussed in the past. Thankfully, the trippy label also tells us YumYum 'has just the malt backbone to support an explosive juicy hop profile derived from a new blend of proprietary hops'. Now we are dealing aces.
TASTING NOTES
Three Floyds YumYum gushes mountains of Johnson & Johnson Baby Bath bubbles that loiter, bright and white. Underneath the clouds turns a translucent copper brew. Aromatics abound, with spicy grains and pine hops most prevalent. The marketing description promised a concrete malt base, and YumYum delivers with serious sweets upfront, leading to a clean mid palette, hinting at mango and pineapple. The big time carbonation pushes through the body, with orange and lemon joining the party, along with a hint of hop oil/resin, and bitterness. The finish is between dry and sweet, with the massive hop profile producing a lingering, but not unappealing bitter note.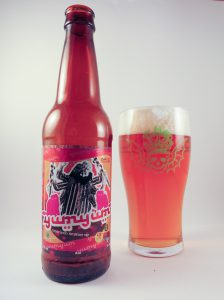 CONCLUSION
FFF's Pride and Joy was an American take on British mild ale, and as such was perhaps the best hop-forward rendition attempted state side. That said, it was not a cask conditioned real ale, representing the essence of a local pub. It was a the least interesting 6-pack in an award winning, and production limited, lineup. Three Floyds YumYum steps into the same space as their already stellar Alpha King and Zombie Dust. There is a real danger of overlap, offering a new hoppy pale ale.
Thankfully YumYum is not only a delicious American Pale Ale, with the proprietary hop blend there is less citrus than Zombie,less  resinous than Alpha King. This beer is a distinctive, delicious addition to the FFF lineup. If you adore the other Three Floyd's hoppy brews, you'll right swipe this one quickly.
8.5/10
[schema type="review" url="http://34.233.121.37/2014/10/29/three-floyds-yumyum" name="Three Floyds YumYum Beer Review" description="Craft beer review of Three Floyds YumYum" rev_name=Three Floyds YumYum " author="Steve" pubdate="2014-10-26″ user_review="8.5″ min_review="0″ max_review="10″ ]